Jand
Details

Category: swordpress.com.ng
Published: 18 July 2019
Written by london
Hits: 869
http://vidio.com.ng/kilishi.mp4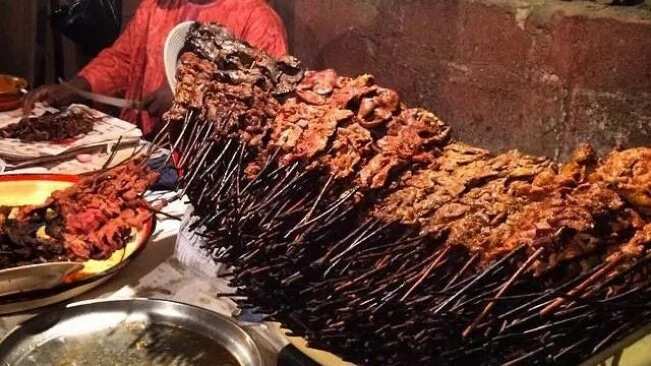 Beef dipped in sauce and roasted over open fire have been a tantalizing delicacy in Nigeria for a long time. Nigerians enjoy snacking on this small pieces of meat stringed on sticks while on the go. As delicious as Suya and Kilishi are, the revelation we are about to make may make you lose interest in the two. If you are one of the people who make daily contribution to Suya or Kilishi sellers, then you had better get prepared for what is coming for you.
Apart from the government banning the production of the spiced meat Nigerians enjoy eating as snack, these information will prevent you from putting yourself into trouble for the love of meat. If you are a Nigerian who reside in your home country, then the chances of you knowing either of the two delicacies or both at once are high. If you are familiar with Suya, then you are just a step away from knowing Kilishi. Kilishi is the family member of Suya that had a longer time getting dried or smoked with heat. While Suya contains diced pieces of meat, the beef used for Kilishi is dried, flat seasoned beef that can be broken with hands.
Apart from the fact that both Suya and Kilishi are made from beef, they also seem to have the same seller. These delicious mouth-filling delights are mostly sold by 'Abokis' in the night. Kilishi is not sold with the regular vegetables like onions, cucumbers, tomatoes and ground peppper in Suya.
All the spices must have been prepared into a mixture which is rubbed on the beef before the drying and cooking begins. Find below some of the mind boggling reasons why you may never want to eat Suya and Kilishi again:
1. High risk of having cancer Perhaps you do not know that the eating of Suya and Kilishi may cost you your life as a result of the processes through which they are made.
Meet roasted over open fire often get charred; while roasting them, some chemicals get released. Precisely, the polycyclic aromatic hydrocarbons are generated when food is being processed over charcoal, wood and gas. Consuming food charred and filled with chemicals will put you at risk of having cancer. In pregnancy, the developing fetus may be predisposed to asthma while having low IQ.
2. Unhealthy environment We would be mild by justifying your patronage of Suya sellers; hunger brings the worst out of people and may prevent you from focusing on your environment in a bid to alienate the gnarling pain you may be feeling. However, the next time you get so hungry, make sure you grab something healthy to eat in order to live long.
Suya and Kilishi are often sold in dirty environments that should make you question the cleanliness of the seller and the processes the roasted meat have gone through earlier. Do not shut your eyes to these small things as you may end up spending more in the hospital as a result of your negligence.
Read more http://swordpress.com.ng/2019/07/18/kilishi-meat-investigation-video-is-it-killing-you-nigerian-beef-jerky-safe-for-human-consumption-lady-asks-in-shocking-video/
No-deal Brexit 'will send UK into recession'
The UK economy will shrink by 3% if Britain leaves the EU without any arrangement for future trading, the Office for Budget Responsibility is expected to predict today. In its first assessment of the economic impact of a no-deal Brexit, the independent body predicts the economy will contract in 2020 as the UK officially enters into a recession, but will then recover the following year, The Times reports. However, GDP will still be at least 3% lower under a no-deal, according to the five-year forecast.
Trump supporters chant 'send her back'
US President Donald Trump yesterday goaded his supporters into a chant of "Send her back!" at a rally in North Carolina, in reference to a Democratic congresswoman who arrived in the US at the age of 12 after her family fled civil war in Somalia. Trump has faced widespread criticism after tweeting that Ilhan Omar and other congresswomen of colour should "go back".
US prosecutors drop criminal case against Kevin Spacey
Massachusetts prosecutors have dropped the only criminal case so far to result from allegations of sexual misconduct levelled against Oscar-winning actor Kevin Spacey. An accuser claimed Spacey had groped him in a bar three years ago, but has now refused to testify about a missing phone that the defence said proved the film star's innocence.
Plan to ban new drivers from driving at night
The Government is considering banning young drivers from taking to the roads at night, under a graduated licence scheme that might also restrict the number of young passengers that can accompany them. Such schemes have previously been rejected in Britain because of fears they would stop young people from accessing education and employment opportunities.
At least 12 killed in arson attack on Japan anime studio
At least 12 people are believed to have died, and another 30 remain unaccounted for, following an arson attack on a Japanese cartoon studio. A suspect was detained and taken to hospital with injuries after spraying an unidentified liquid around and then setting it alight at Kyoto Animation Co. in Kyoto on Thursday morning. It is not known what relationship the man may have had to the company.
Labour peer sacked for comparing Corbyn to Hitler
A Labour peer has been sacked as a shadow Brexit minister after comparing Jeremy Corbyn's leadership to the "last days" of Adolf Hitler. Baroness Hayter told a meeting of the centre-left Labour First group earlier this week that Corbyn's refusal to acknowledge criticism - such as of the party's handling of allegations of anti-Semitism - revealed a "bunker mentality". A Labour spokesperson said her comments were "deeply offensive".
Instagram hiding 'likes' in bid to reduce peer pressure
Social network Instagram has begun hiding the number of "likes" and video views that posts receive, as part of a trial aimed at removing "the pressure" on users to prove their popularity. Instead, the site simply identifies that posts were liked by "others". The new approach is being tested in Australia, Japan, Brazil and Ireland.
Christian family say taxes against God's will
Two Christian siblings running a farm in Australia have been ordered to pay more than A$2m (£1.1m) in back taxes and other charges after a court in Tasmania rejected their argument that such levies are against God's will. Rembertus Cornelis Beerepoot and Fanny Alida Beerepoot had told the court they didn't need to pay a $930,000 (£525,000) bill because everything they owned belonged to God, and Australian tax law fell under the jurisdiction of the Bible.
Indonesia airline criticised over ban on in-flight photos
Indonesia's national airline has come under fire over plans to ban the taking of in-flight photos after a popular video blogger posted an image that sparked mockery of the company. Travel blogger Rius Vernandes is being sued for defamation by Garuda Indonesia for posting a picture of a hand-written menu that he was handed while travelling in business class on a flight from Sydney to Bali. However, the airline has scrapped the proposed ban following an online backlash.
Briefing: what is Neuralink?
Controlling your surroundings from a microchip in your brain sounds like the stuff of sci-fi, but it may soon be a reality thanks to tech billionaire Elon Musk.
Speaking at the California Academy of Sciences in San Francisco this week, Musk revealed that his "brain-machine interface" start-up, Neuralink, is developing an implant that will enable humans to control compatible technology with their thoughts.
Read more https://www.theweek.co.uk/daily-briefing/102318/ten-things-you-need-to-know-today-thursday-18-jul-2019