Jand
Details

Category: swordpress.com.ng
Published: 17 January 2020
Written by london
Hits: 179
U.S. soldiers inspect rubble at a site of Iranian bombing, in Ain al-Asad air base, Anbar,
The troops were medevaced this week to Germany and Kuwait to be treated for traumatic brain injury after experiencing concussion symptoms.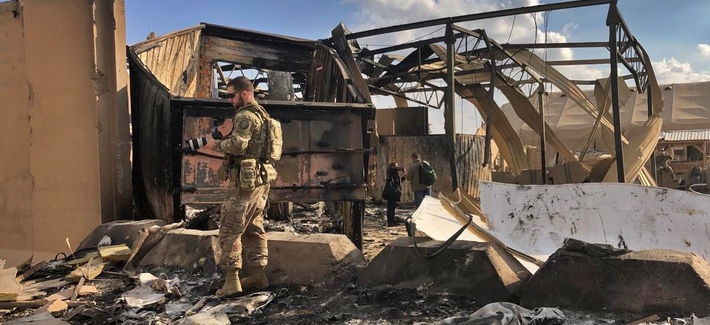 Nearly one dozen American troops were wounded in Iran's Jan. 8 missile attack on Iraq's al-Asad air base. This week, they were medically evacuated to U.S. military hospitals in Kuwait and Landstuhl, Germany, to be treated for traumatic brain injury and to undergo further evaluation, several U.S. defense and military officials have confirmed to Defense One.
Senior military and Trump administration officials had said on Jan. 8 that 11 Iranian missiles had caused "no casualties, no friendly casualties, whether they are U.S., coalition, contractor, et cetera."
In the past week, news organizations that were granted access to the base to film the damage and interview military personnel have reported that no Americans were killed, wounded, or "seriously injured." But the New York Times reported on Monday that some personnel had been treated for concussions.
In a Jan. 16 statement, a spokesman for the U.S. military command in Baghdad said, "As previously stated, while no U.S. service members were killed in the Jan. 8 Iranian attack on Al Asad Air base, several were treated for concussion symptoms from the blast and are still being assessed."
"Out of an abundance of caution, some service members were transported from Al Asad Air Base, Iraq to Landstuhl Regional Medical Center in Germany, others were sent to Camp Arifjan, Kuwait, for follow-on screening," said Col. Myles Caggins, spokesman for Combined Joint Task Force-Operation Inherent Resolve. "When deemed fit for duty, the service members are expected to return to Iraq following screening. The health and welfare of our personnel is a top priority and we will not discuss any individual's medical status."
A separate U.S. defense official speaking on background confirmed eleven Americans had been sent out of Iraq for treatment.
facts
Eleven US Troops Were Injured in Jan. 8 Iran Missile Strike
2
US Army Cancels $45B Armored Vehicle Contest That Drew One Bid
3
Esper Is Attempting the Biggest Defense Reform in a Generation
SUBSCRIBE
Receive daily email updates:
Subscribe to the Defense One daily.
Be the first to receive updates.
Enter your email
"As a standard procedure, all personnel in the vicinity of a blast are screened for traumatic brain injury, and if deemed appropriate, are transported to a higher level of care. At this time, eight individuals have been transported to Landstuhl, and three have been transported to Camp Arifjan," said the official.
Later Thursday evening, Capt. Bill Urban, spokesman for U.S. Central Command, which oversees all military in the region, confirmed those details in a similar on-the-record statement emailed to reporters.
According to a fourth senior U.S. defense official, "About a week after the attack some service members were still experiencing some symptoms of concussion." The official expected more information would be released soon. "We only got wind of this in the last 24 hours."
Related: Iran Launched Missiles at Iraqi Bases with US Forces, Pentagon Says
Related: What We Know About the Missiles Iran Fired Into Iraq
Related: US, Iran Back Away From Conflict—For Now
Initial reports about the attack speculated that Iran had tried to avoid areas of the base that housed military personnel. But U.S. officials soon rejected that notion. In a Jan. 8 press conference, Joint Chiefs Chairman Gen. Mark Milley said, "The points of impact were close enough to personnel and equipment, so on and so forth, I believe, based on what I saw and what I know, is that they were intended to cause structural damage, destroy vehicles and equipment and aircraft, and to kill personnel."
Still, several news organizations soon reported from al-Asad that U.S. troops had been alerted to the attack hours in advance, and told to head for bunkers 15 minutes before the missiles began to strike. Many U.S. troops, however, manned exposed positions, including at least one group of drone operators who stayed in an above-ground building to get their drones aloft and avoid ground damage. The leader of an Army drone team told NPR that he was "knocked off his feet by the blast." Others told the New York Times that missiles damaged the building they were in.
On Thursday, Pentagon chief spokesman Jonathan Hoffman declined to say what tipped off the Americans. He did deny reports that the warning came from somewhere besides the United States or Iraq.
This article has been updated to include the additional statement provided by U.S. Central Command
Read more http://swordpress.com.ng/2020/01/17/eleven-us-troops-were-injured-in-jan-8-iran-missile-strike-war-com-ng/?utm_source=rss&utm_medium=rss&utm_campaign=eleven-us-troops-were-injured-in-jan-8-iran-missile-strike-war-com-ng
Credits
(Apex TV)
Friday, January 17, 2020 - 6:35am
A "time traveller from 2075" has claimed that in the future, we will eat small, white balls. Interviewed by Apex TV, the man says: "I'm going to show you food, actual food, from the future. Here is actual food from year 2075." He then produces a jar filled with the pellets, which resemble the polystyrene balls used to fill beanbags. "Each one will enable you to stay healthy and alive for another day," he insists.
World's longest cake baked in India
If you fancy something more substantial than pellets, head to India where bakers broke a Guinness World Record with a cake measuring more than three miles. The colossal cake was made on long tables on the streets of Thrissur. It beat the previous record, a 1.98-mile, 4.26-inch cake made in China in 2018.
'Haunted' doll keeps returning to family home
See related
'Time traveller' from 2045 names future US president
Time traveller 'met purple dinosaur 66m years ago'
A mother in Houston has been unsettled after a Frozen doll returned to the house after she binned it twice. When her daughter's doll began singing and talking in Spanish, even when switched off, Emily Madonia threw it out but it appeared back in the house. Then, she tightly wrapped it in a garbage bag, and put that inside another garbage bag at the bottom of their bin, and watched as it was collected. However, it re-appeared in their garden a few days later.
–––––––––––––––––––––––––––––––
For more outlandish tales and news to make you smile, sign up for our new Tall Tales email at theweek.co.uk/sign-up-for-the-tall-tales-email.
–––––––––––––––––––––––––––––––
Odd News
Read more https://www.theweek.co.uk/odd-news/105254/time-traveller-reveals-what-well-eat-in-2075